Thanks to the field experience and the collaboration with Ophthalmologists, the new CF X-LINKER ® generation was developed with ìmproved technical features, along with a wider treatment range, for a complete and smooth experience in your daily practice.
---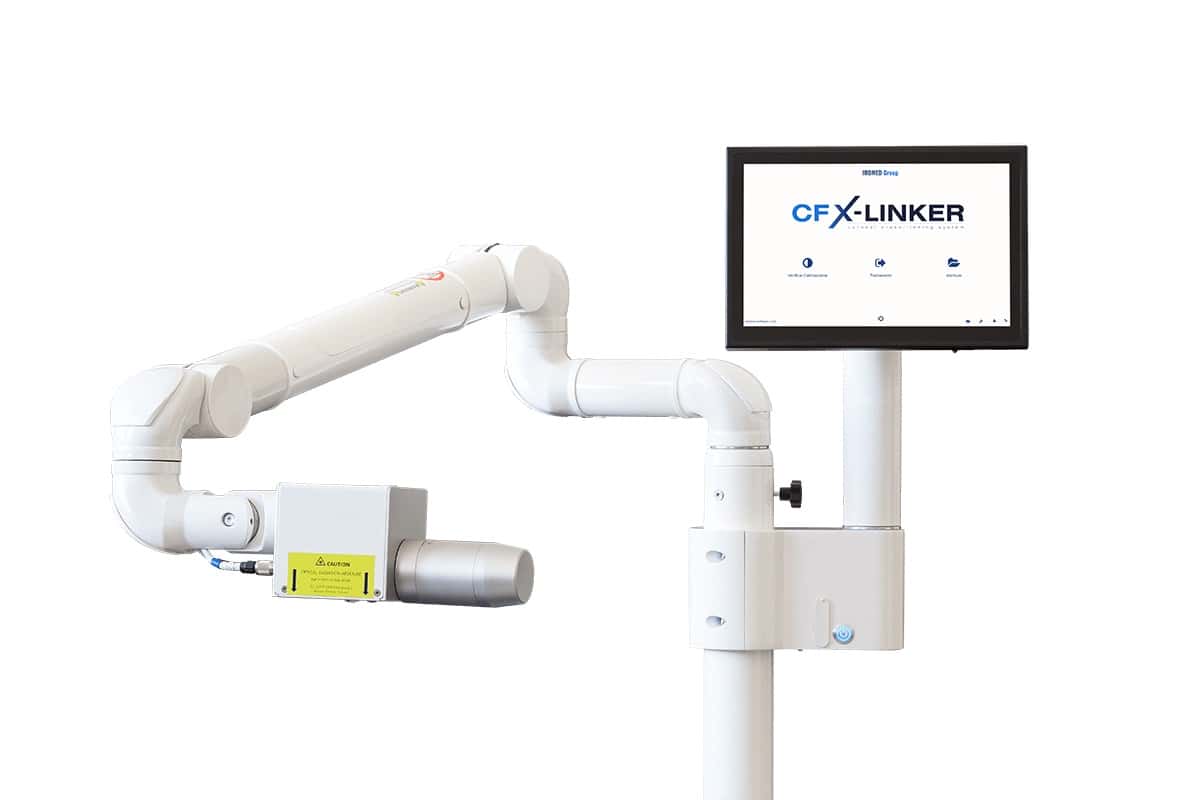 MAXIMUM FLEXIBILITY
CF X-LINKER ® is one of the most complete solution for corneal ectasias treatment, thanks to its wide treatment range. It is an open system, that can be used with every riboflavin solution on the market, without needing additional materials or expenses. CF X-LINKER ® gives you the option to select between different protocols: EPI-OFF or EPI-ON, with continuous or pulsed UV emission, up to fully customizable user presets, to give every patient a specific treatment.
EASE OF USE The new CF X-LINKER ® interface has been optimized to provide an easy and smooth experience during every phase. Every operation is managed through the touchscreen 10'' monitor, with exclusive proprietary software. The integrated camera allows you to follow the whole treatment live. CF X-LINKER ® allows you to compile, save or print a treatment report at the end of each procedure. You can easily save them in the internal database, export it via the integrated USB port or print it directly.
CUSTOM FAST CXL CF X-LINKER ® is the only system in the World that can perform Custom Fast CXL (cfCXL), customized, low power EPI-ON cross-linking treatment. Our proprietary software uses a mathematical model to calculate the procedure parameters automatically, based on patients' topographic and pachymetric values. Custom Fast CXL allows the user to provide patients with a treatment tailored to their specific needs, while maintaining high safety standards.
Custom Fast CXL is supported by several international publications, with a 7-year follow-up.
(Custom Fast CXL can be performed only with CF X-LINKER ® system and RIBOCROSS ® te/RIBOFAST riboflavin solutions).
---
CARATTERISTICHE
General

10' touchscreen display;
Easy to use interface;
Integrated camera for treatment live view;
Treatment report;
Treatment report database;
USB port for report saving and export;


---




TREATMENT INDICATIONS

Keratoconus;
Corneal Ectasias;
Post PRK/LASIK/RK ectasias;
Pellucid Marginal Degeneration;
Infectious Keratitis;


---




Operating parameters

UV Power: 1-30 mW/cm²;
Continuous and pulsed UV emission;
Beam diameter: 3-12 mm;
Selectable treatments:

Dresda EPI-OFF;
Custom Fast CXL EPI-ON;
Iontophoresis;
Infectious Keratitis CXL;
Customizable user presets;
Demo mode.
---